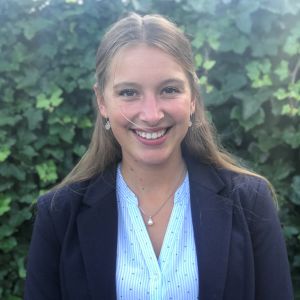 Charlotte lives in Rotterdam and was born in 1999. She is currently completing her master's degree in International Public Management (IMP) at Erasmus University Rotterdam. During her bachelor's degree in International Relations, she spent a semester in Halifax (Canada) taking political-related courses at Dalhousie University.
Charlotte started as an intern at VVD International and continued to assist the team as Project Coordinator. For now, she mainly organizes projects and academies that focus on the integration of liberal values ​​in Eastern Europe, to which she hopes to make a valuable contribution.
Her motivation to join VVD International is her strong belief in the rule of law and the idea that liberal parties can strengthen each other by working together.
In her free time, Charlotte likes to have a drink with friends, go for a run or walk on the beach with her dog. She recently started playing padel, which she hopes to improve. In addition, she can also be found in the kitchen or on the golf course.